Social Media Marketing Course in Lahore
SOCIAL MEDIA MARKETING, and Freelancing Course In Lahore Pakistan | Ideoversity
Social Media Marketing and Freelancing Course in Lahore helps you to develop your skills in marketing your product or services on social media platforms. SMM & Advertising Course in Lahore provides you with more opportunities to learn everything from business and advertising to SMM, SMO, and Social Media Promotions.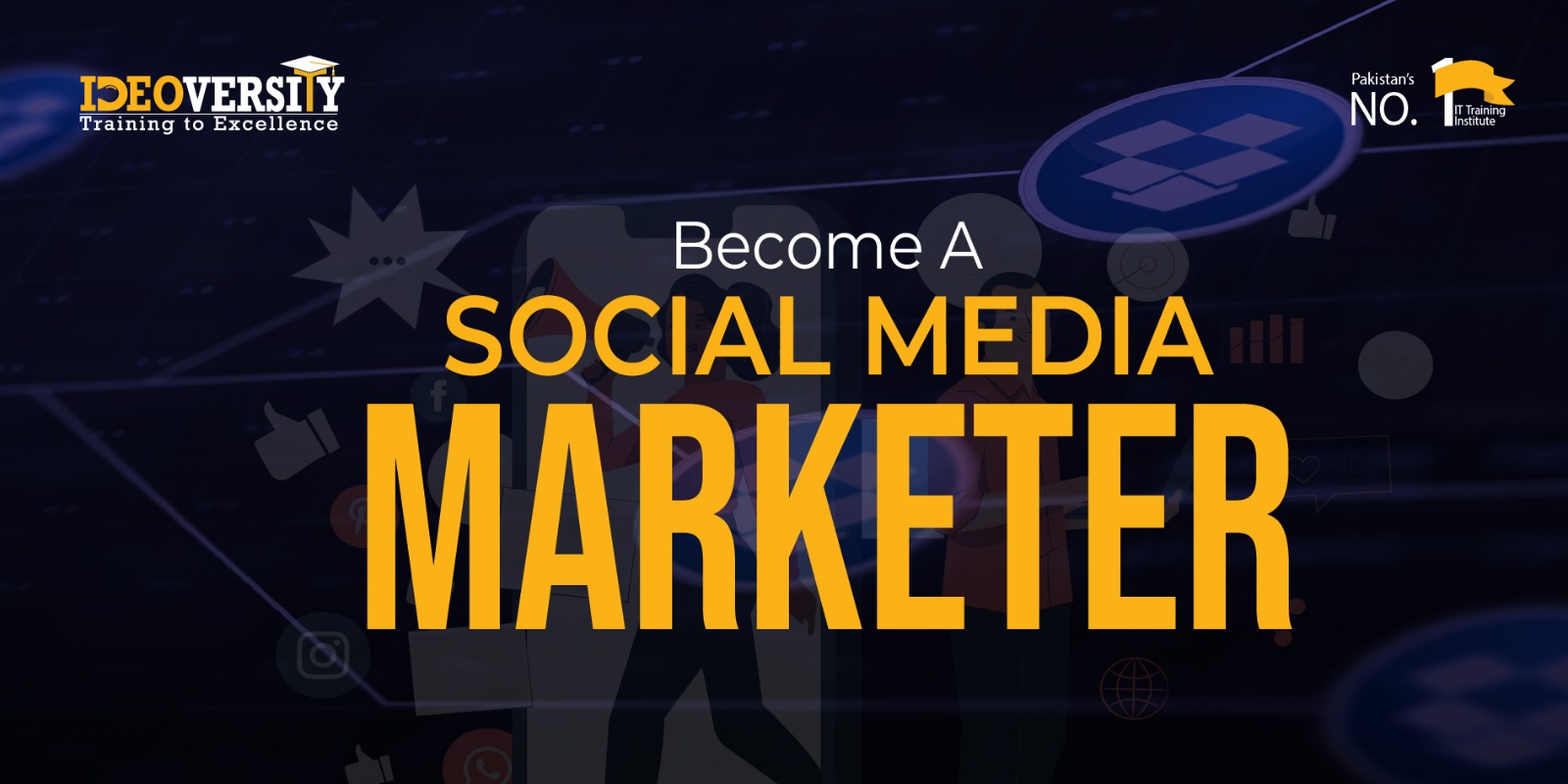 PHYSICAL CLASSES
Experience classroom learning with our physical classes, featuring face-to-face interactions, a structured schedule, and hands-on activities for best educational experience.
ONLINE CLASSES
Our online platform offers an immersive learning environment, designed to fit your busy schedule, with expert instructors and a wide range of courses.
RECORDED LECTURES
With recorded lectures, students can enhance their understanding of the subject matter by accessing course materials anytime, anywhere catching up on missed classes.
WEEKDAYS and WEEKENDS
Morning and evening
Social Media Marketing
Social Media Marketing Course In Lahore Pakistan | Ideoversity Introduction Of Social Media Marketing Course In Lahore 
Social media marketing is one of the most important parts of the digital marketing Course in Islamabad, which provides incredible benefits that help reach millions of customers worldwide. Social media is one of the most profitable digital marketing platforms that can be used to increase your online marketing at Ideoversity.
For an advertising strategy, social media marketing training course in Karachi is possibly the most cost-effective way. One of the best ways to find the needs and wants of your customers instead of directly communicating with them is Marketplace awareness.
And, if you are not applying this profitable platform, you are passing up an incredible marketing opportunity, as it makes it easy to spread the information about your product and mission Social Media Marketing Course in Lahore Pakistan Ideoversity.
Best Social Media Marketing Course in Lahore Pakistan Ideoversity
By daily updating the right social media marketing strategy, it will lead to increased traffic, better SEO( Search Engine Optimization), improved brand loyalty, more advantageous consumer loyalty, and much more.
Your competition is increasing day by day on social media platforms, so don't let your competitors take your daily consumers. Moreover, a web development course in Pakistan will help you develop your skills in building an online presence for any company.
Online Marketers are spending more on social media advertising, with social media ad spends to measuring more than $89 billion in 2019. As per projections, social media marketing ads will see an annual growth rate of 8.7% and likely reach $102 billion by 2020. Mobile users contribute to a majority of social advertising  (social media marketing strategy) revenue Ideoversity.
Instagram is one of the fastest-growing social media platforms. While it is mostly app-based, users can also access their feeds through the website. In June 2018, it finally reached 1 billion monthly active users. Instagram is a highly visual platform, where users share videos and images.
There were 37.00 million social media users in Pakistan in January 2020. The number of social media users in Pakistan increased by 2.4 million between April 2019 and January 2020. Popular Social media platforms have quickly become an important part of marketing for businesses.  Ideoversity IT Training Institute in Pakistan offers the Best Social Media Marketing Course in Arfa karim tower(Lahore Pakistan). Once you are in Ideoversity, Best IT Training Institute you will be in safe hands! Some of the most popular social media platforms for brand development and marketing include:
Facebook

Twitter

Instagram

LinkedIn

Snapchat

Pinterest
Why this Course (Social Media Marketing Course in Lahore Pakistan Ideoversity)
Researchers forecast that e-sales will exceed $735 billion by 2023. (Blazon)




73% of marketers believe that social media marketing has been very effective for their business. (sprout social)
Users spend an average of 3 hours per day on social networks and messaging. (sprout social)
Scope Of Social Media Marketing Course In Islamabad Ideoversity
Each year billions of dollars are invested in social media marketing, as a businessman or entrepreneur one should know how to generate organic traffic from social media to your business, and as a student, one should have a grip on campaigns to be placed in the industry.
Objectives of Best Social Media Marketing Course In Lahore | Ideoversity
The objective of Social Media courses in Lahore is to:
Hands-on experience on paid campaigns on Facebook, Instagram, Twitter, and Linkedin

Understanding the basics of social media handling

Learning marketing techniques used by big brands.

Determining target audience behavior on a different platform

Working on live marketing projects

Using management tools to manage workload

Implementing influencer marketing




Handling social commerce.
Skills Outcomes from Best Social Media Marketing Course In Lahore 
Market Research

Social media marketing strategy

Social Commerce

Social Media Paid Campaigns

SMM Organic Traffic

Social Media Designing

Social Media Reporting

Social Media Handling

Brand Management

Audience Creation

Freelancing




Why should we join Best Social Media Marketing Course In Lahore | Ideoversity

Business Owner – To increase online sales and profits by 10X
Students – Learn the most demanded skill and start freelancing
Professionals – Upgrade your portfolio and have more opportunities
Influencers, Bloggers, and Youtubers – Reach more fans ever than before
House Wives – Stay home, start freelancing, and earn
Marketing & Sales Professionals – SMM will take you to next level
Introduction Of Social Media Marketing Search Engine Optimization and Freelancing Course In Lahore
Introduction To Social Media Marketing
Market Research
Facebook Marketing
Instagram Marketing
Twitter Marketing
Linkedin Marketing
Pinterest Marketing
Social Media Management Tools
Social Commerce – Start Your Own.
Course Outline Social Media Marketing
How social media Marketing Course in Lahore Ideoversity become the biggest source of marketing

Famous social media platforms

Types of Social Media

Social Media Goals and Strategies

Successful Social Media Case Studies

Facts about social media marketing

Why we need a social media marketing

Build Your Brand on Social Media

Introduction to digital media marketing

Understanding inbound and outbound marketing

Understanding the trends
Market Research
The Marketing Research Process

How to make research Proposals

Understanding Secondary Data

How to create Hypotheses

Exploratory and Observational Research

Creating an audience

Understanding the target audience interests

Designs and Data Collection Approaches

Descriptive and Causal Research Designs

Measurement and Scaling

Communicating Marketing Research Findings

Designing of Questionnaire 
Facebook Marketing
Introduction to Facebook

How to complete your profile

How to make a group

Basic Facebook group setting

Group marketing techniques

How to handle Facebook page

How to stream live on Facebook

How to integrate the app in Facebook page

Best Way to Increase your Facebook Traffic and Generate Sales

How to create reports of a Facebook page
Facebook Advertising
How to create a Facebook business account

How to manage ads manager

How to make a plan for media buying

How to integrate payment method on Facebook

How to add pages

How to add ads accounts

Creating a team

Combine analysis

How to request access from business manager

How to add business manager as a page owner 
Page monetization
What is Facebook Monetization?

How much you can earn from Facebook?

Introduction to video monetization

How to setup video monetization

How to find copyright-free videos from the internet

How to promote videos in groups

How to get free likes to form groups

Introduction to instant articles

How to set up instant articles

How to connect it with your domain

How to find content for free s
Instagram Marketing
Introduction to Instagram

Difference between Personal Profile and Business Accounts

How to make a business Instagram account`

How to generate sales form Instagram

Increasing Your Content Engagement

The Instagram Engagement Algorithm

Name vs. username

Hashtags and Tags

Captions

How to write a convincing bio

Content planning

What is Influencer Marketing

What works on Instagram + common ideas

Calls to action

Strategies for stories
Instagram advertising
Introduction to Instagram Ads

The Power of IG Ads 

Types of Instagram Ads (Stories VS Feed)

Video strategy for Instagram

How to select hashtags for marketing

Verify and Expand your Target Audience
Twitter Marketing
What is Twitter & why you should use it

Establish Your Twitter Presence

Personal profile marketing

Business profile marketing

Tweet research and designing

How to trend something on Twitter

Traffic from Twitter

Journey to 3000 likes in the first month

How to use Twitter for Business

How to get more retweets on Twitter

Discover how your Twitter strategy
Twitter Advertising 
How to create a Twitter ad

Twitter Analytics

How to plan a budget for Twitter

Twitter ads strategy
Pinterest Marketing
Learn how to set up your profile

Understand the difference between friends and followers

Importance of choosing the right username

How to start and create a page interest,

Introduction to the 4-Phase Profit System How to use Pinterest to create loyalty and trust clients

Understanding page settings
Linkedin Marketing
Introduction to Linkedin

How to find and add connections

LinkedIn for Business

Linkedin Marketing Tips

Transform your LinkedIn Profile into a Marketing Tool

B2B Networking Strategy

Generate Leads from Linkedin

Connections and reach

Creating a professional profile

Post-creation and analysis

Groups and people

Blogging on LinkedIn

Use of Slideshare to grow your LinkedIn
Linkedin Advertising
Business page settings

How to create an ad

How to create an audience

How to plan for media buying

How to use analytics

How to create an advertising strategy 
Social Media Management tools
Hootsuite

Buffer

Sprout Social

Send social media

Canva

Manage flitter
Social Commerce – How to Start your Business
How to find a product to sell

How to make a shopping cart on Facebook

Introduction to drop shipping

How to find freelancing work online

How to find freelancing work offline

100 social media business ideas